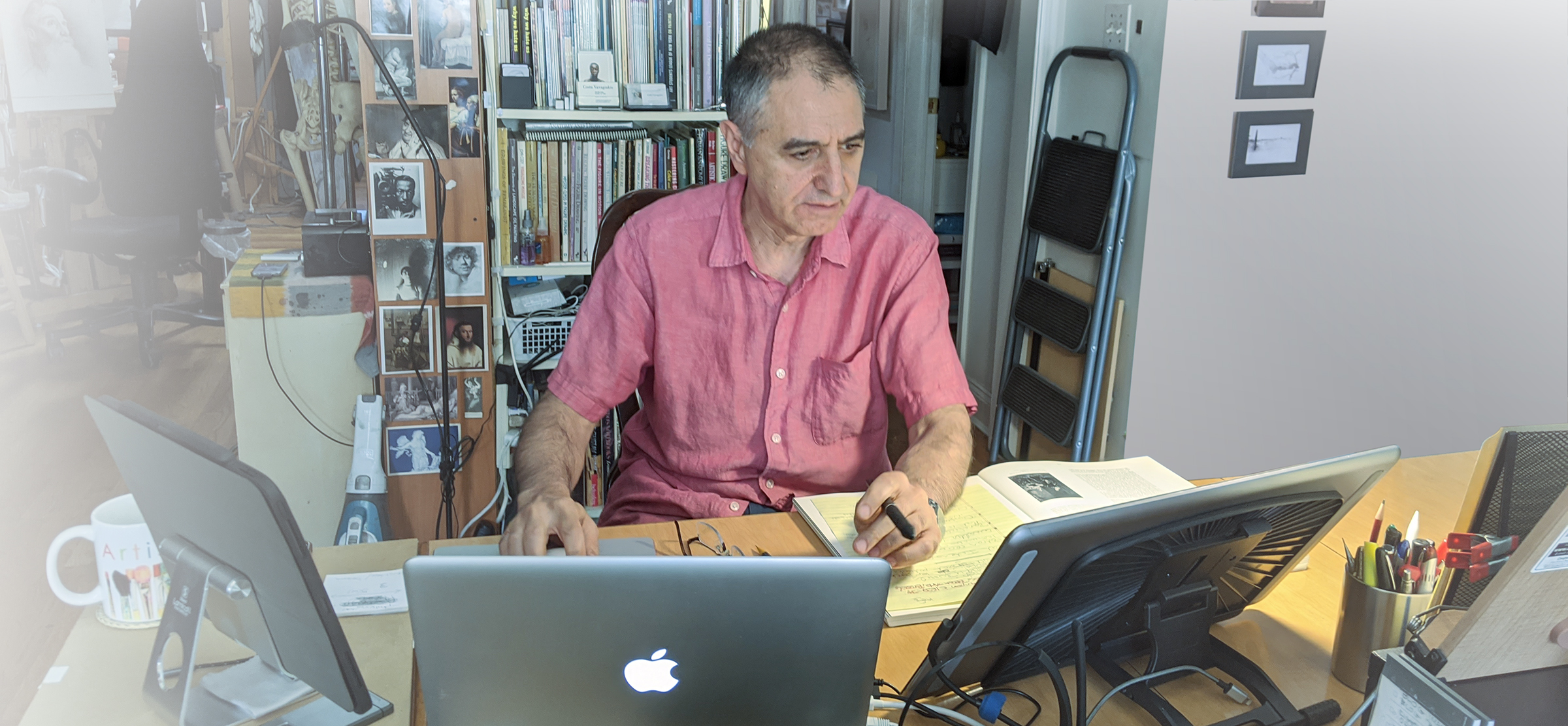 Significantly accelerate your artistic development by reserving an online or in-studio individual learning session. As an artist and educator, I cannot stress enough the benefit of receiving undivided instructor attention. While the larger group classroom setting offers the benefit of learning through both instructor and peers, the individual learning setting provides the benefit of personalized instruction tailored specifically to your needs. Students of all levels are welcome and the pace of learning is customized to your individual goals and progress. Reserve one or more sessions by contacting me by phone or email.

---
Online
First piloted and perfected exclusively for my Yale University art students, my online individual learning sessions are now widely available to all of my public and private students. These 30-minute focused dialogues offer detailed and comprehensive observation, critique, instruction, and review of your painting or drawing — whether complete or in process. 
How It Works
We begin by viewing a shared screen presenting two side-by-side digital photographs — one of your artwork and one of the reference from which you are working (i.e.: still life, portrait, live model, landscape, the work of a master you are copying, etc.). I thoroughly discuss your work and provide critique and instruction. If the work is in process, I can also offer recommendations for making adjustments moving forward. You can schedule the number of sessions you require based on your individual learning goals and availability.
Deciding the Stage of Completion for Your Session
An online individual learning session can be useful at any stage of completion. For example:
The initiation stage: This early stage offers us the opportunity to discuss the many choices you have in type of projects, design, lighting, etc.
The preparation stage: This preliminary stage provides an ideal juncture to help you lay a successful groundwork as you research and develop your project. I can advise you on related art and artists to explore, and offer historical context and compositional options to help facilitate your idea.
The work-in-process stage: A session at this stage can provide instruction and inspiration as you tackle the technical issues of proportions, tonal value, and perspective. If you reach an impasse where you need some guidance, a session can serve as a pivot, helping you to continue to develop and successively execute your piece of art.
The completion stage: This final stage is a time to receive a thorough and comprehensive critique of your work, reviewing it side-by-side with the reference image. We will reflect on the major takeaways in order to prepare you for your future undertakings.
Scheduling and Paying for Your Session
Sessions are scheduled and payment is arranged by phone. Please call me at 347-418-1925 and we will find a mutually available appointment time on our calendars. Or if you prefer, you can email me at costa@costavavagiakis.com with your phone number, a few dates and times that work for you, and the best time to call you back, and I will call to confirm your session and process payment. At that time I will also provide instruction on how to submit your two images.

Session Requirements
Before the Session
After scheduling your session and no less than 48 hours before the session start time, please send to me a digital photograph of both your artwork and your reference either by email (if the size is not too large to email) or by upload to the folder I will have created for you on either Google Drive or Dropbox. 

Provide quality, high-resolution images in jpg or tif format. Each image should be at least 1 MB or larger. [You can locate the size of a photo file on your computer by tapping the "get info" tab. On your iPad, iPhone, or Android device, you can use a free app such as Image Size, Snapseed or Photo Investigator to find the file size. If you're using an iPhone to email an image, you will see the various file sizes available to send, at which time you would select "original size."] Once I receive your two images, I will prepare them in a side-by-side format for our session. Alternatively, if you prefer and are able, you can place the digital image of your art next to the image of your reference using PowerPoint, Keynote, or Photoshop, and email or upload as one file.

Please have Zoom preloaded on your device of choice. To gain the most benefit from our session, I recommend that you use a desktop, laptop, or tablet computer rather than a smart phone.
During the Session
Find a quiet location with a good internet connection where you can fully engage in and benefit from our session.

Join the Zoom meeting promptly at our scheduled start time.

Session Pricing
Single 60-minute online individual learning session: $150
---
In Studio
Individual learning sessions are arranged with you, me, and a model in my Brooklyn studio. We can schedule one or a series of sessions according to your individual learning goals and availability. Call or email for details.