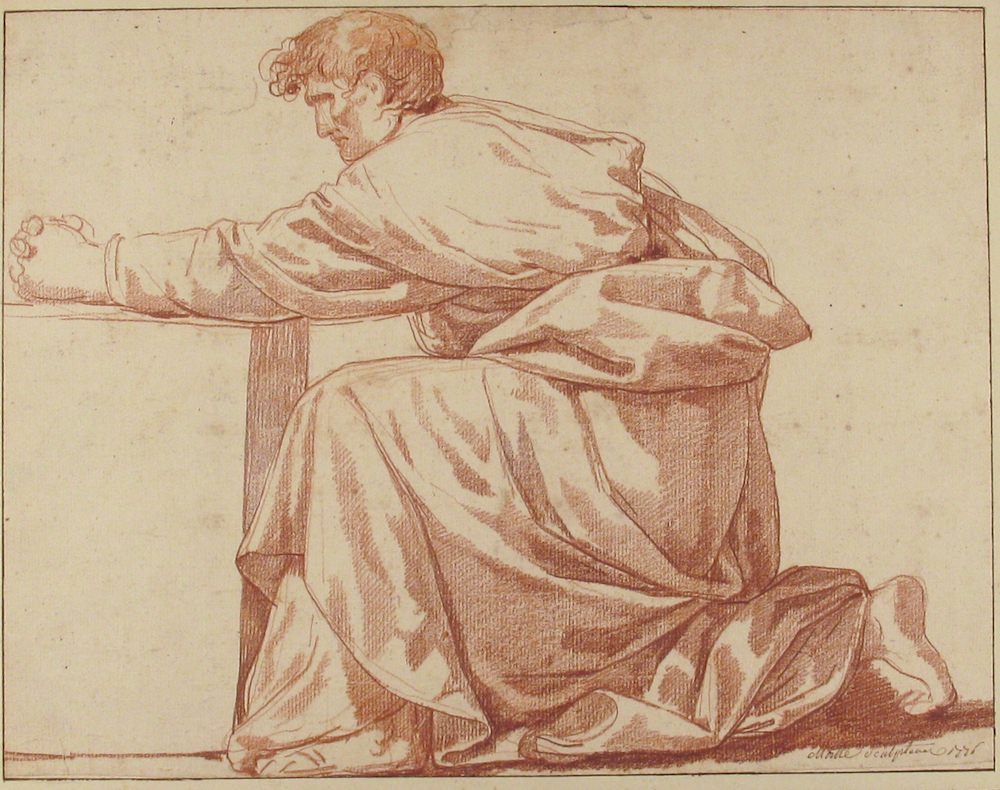 Copying master drawings is a rewarding way to improve your drawing skills. When you copy a drawing by a highly skilled artist, you are exposed to the artist's techniques, as well as to their thought process. Copying teaches you how a master faces and solves fundamental drawing problems. You get a deep, rich understanding of how the artist developed an idea from beginning to end. The next time you feel stuck on a particular work, you may be able to draw from the work of other artists and then return to your own drawing with a refreshed and informed eye.  
I selected drawings from the Metropolitan Museum's collection. copying master drawings

These Met drawings are done in one of the three dry media that we have been working with this semester: graphite, charcoal, or red chalk. Choose one drawing each week from the links below and download it to your computer or iPad—not to your phone! Execute a thorough copy, spending at least three hours on each. Use the same medium as the artist and try to copy it at approximately the same scale. Do your copy on good quality drawing or charcoal paper—not newsprint. When copying, magnify the drawing in question in order to study the master's lines. As I have said repeatedly in class, when you look at a Raphael, Rubens, or Rembrandt, you cannot confuse one style with the other. One thing they all have in common, however, is that their lines are open‐ended and overlapping. As you are copying, try to simulate the master's strokes. One way to check your accuracy is to turn both the original and your copy upside down and compare them side by side. You will see exactly where you are off.
GRAPHITE DRAWINGS
William Douglas Almond
Jean Auguste Dominique Ingres
Auguste Rodin
George Richmond
Edgar Degas
William Young Ottley
Friedrich Preller the Elder
Henri Lehmann
BLACK CHALK DRAWINGS
Giovanni Battista Piazzetta
Giovanni Battista Piazzetta
Juan Carreño de Miranda
Giovanni Battista Piva (Biva)
Giovanni Battista Piazzetta
Annibale Carracci
Giovanni Battista Piazzetta
Giovanni Battista Piazzetta
Jacopo Palma the Younger
Annibale Carracci
Timoteo Viti
Anonymous, Italian, 16th century
Martin Drolling
Bartolommeo Nazari (Nazzari)
Paul (Hippolyte) Delaroche
baron Antoine Jean Gros
Workshop of Fra Bartolomeo (Bartolomeo di Paolo del Fattorino)
Etienne Parrocel
Romain Cazes
Bernardino Poccetti
François Le Moyne
Georges Seurat
Isidore Pils
Lorenzo Lotto
RED CHALK DRAWINGS
Michelangelo Buonarroti
Anonymous, French, 18th century
Claes Moeyaert
Georg Friedrich Schmidt
Giovanni Angelo Canini
George Richmond
Jean Guillaume Moitte
Anonymous, Italian, Bolognese, 17th century
Jonathan Richardson Sr.
Eugenio Cajés
Nicolas Lancret
Isidore Pils